LOS ANGELES — When "Beloved" starring Oprah Winfrey fell flat at the box office in 1998, Winfrey drowned her sorrows in macaroni and cheese.
She found a different way to celebrate when "Lee Daniels' The Butler," her first big-screen performance since "Beloved," hit No. 1 in its debut last weekend.
"I actually got a purple Hula Hoop that I bring out for occasions like this," Winfrey said this week. "So I brought out that Hula Hoop in the front yard."
The scant turnout for "Beloved," based on Toni Morrison's novel, caught Winfrey by surprise after the reception of 1985's "The Color Purple," the Steven Spielberg film in which she made her big-screen debut and which earned her an Oscar nomination.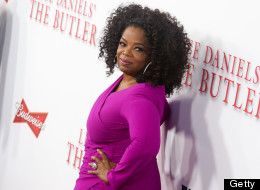 "I didn't know that by Saturday morning you could already know that you're a loser," she said, referring to how quickly a new film's performance is judged. "So Saturday morning I get the call that (`Beloved') was beat out by `Bride of Chucky.'"
She asked her chef to start cooking comfort food and ended up "in a macaroni-and-cheese coma."
Given that unhappy memory, she said, she decided on "no expectations" for director Daniels' "The Butler," in which Forest Whitaker portrays a longtime White House butler and Winfrey plays his wife.
"Do the work, offer it, and however it's received" was her approach, said the former daytime talk-show queen who now oversees her cable channel, OWN.
"I actually think this weekend is going to do better than we imagine," Winfrey said. "It's touching the hearts of people who didn't expect it."
Oprah Winfrey stars in "Lee Daniels' The Butler," has a hula hoop.